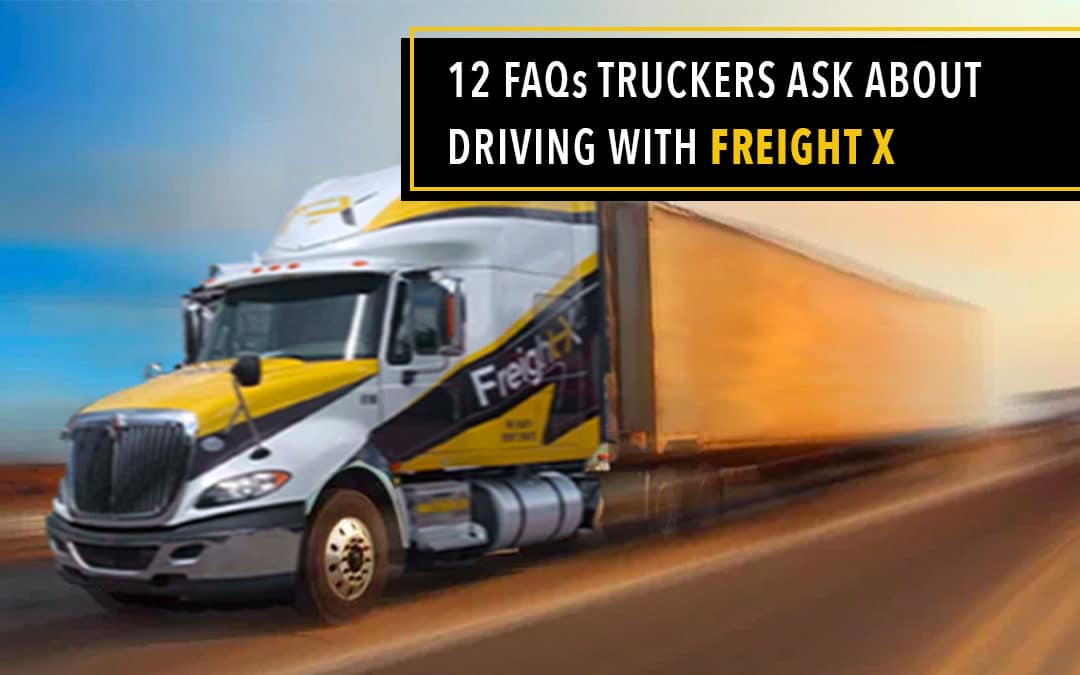 We get a lot of similar questions when new drivers call into Freight X. If you're interested in driving for us, here are some answers to questions you may have!
#1: How much money will I make?
To make things simple, a solo company driver can expect to run about 2,700 miles per week, which brings you right around $1,200 per week gross.
That's the simple answer, but we wrote a lot more about pay in this article, so check it out: Should I Be a Company Driver or an Owner Operator?
#2: Can Drivers pick their own loads?
In general, no, but it's not because we want control – it's because our dispatchers are incredible at what they do. After drivers work with our dispatchers, they tell us they don't want to pick their own loads.
Our seasoned dispatchers are booking loads every day out of different areas. Freight can be somewhat seasonal, and what might be a great rate going to Colorado today might be not a great rate next week. In other words, just because a load is paying really well going in doesn't mean you won't be deadheading out.
We have the tools and experience to make sure what looks like a great rate is actually a great rate. Dispatchers are looking to maximize your weekly revenue – not just the revenue going out to a location on a particular day.
On top of that industry knowledge, our dispatchers make sure you have a scheduled appointment that's confirmed so you're not sitting around and waiting all day. You want our dispatchers looking out for your best interest.
In addition, we have a lot of customer freight, which means no matter how high or low the market is, our freight is reliable and steady.
With all that said, we take our drivers' preferences to heart. A lot of companies don't care what you want or where you want to go – we're quite the opposite. We listen to every driver and honor their requests. We also take home time seriously.
Our dispatchers also go above and beyond to ensure drivers don't get burnt out by building in needed breaks at home. They make sure you're doing well both financially and mentally. We really take pride in how we treat our drivers – like family.
#3: What do you offer for teams?
We really have the ideal setup right now for team drivers. The combination of high compensation, light loads, and dedicated lanes is a team's dream.
Here are the highlights:
Excellent pay (pay varies on runs)
Dedicated lanes/routes
Dedicated light loads under 10,000 pounds
90% drop and hook – no sitting around, about 15-minute load and unload time
In and out of Florida
Cash bonus if you run 3 round trips per week, which most teams take advantage of
Each team driver consistently grosses up to $2,200 per week
Send us an inquiry if you're a team interested in this offer.
#4: Will I be home daily?
It's pretty rare to be home every day, but it depends on the lane. In some instances, yes.
If you're a Florida-based driver, we do have some mail runs that are home every day, but they're all taken right now. With that said, the lanes we have are constantly changing, so if you're interested in driving for us, send us an inquiry and we'll get back to you if we have a good fit for what you're interested in.
#5: What makes of tractors are available for lease?
We're currently leasing 2015 and newer ProStar Internationals.
#6: Do you have driving jobs in my city/state?
It depends on the contracts we get. We always have driving jobs in Atlanta, Miami, and Orlando. We typically go as far west as the Mississippi.
As far as regionality, we're heavy in the southeast and go up the eastern seaboard.
#7: What type of freight do you pull and in what kind of trailer?
We do FAK (freights of all kind) in dry vans.
#8: I have careless driving on my Motor Vehicle Report (MVR) – can you hire me?
As you probably know, insurance companies frown upon careless driving on your MVR. Hiring safe drivers is our top priority, so we feel most comfortable with at least 5 years since the last incident. We handle careless driving from the last 3-5 years on a case-by-case basis.
#9: When can I start a lease purchase contract?
If you're interested in becoming a lease purchase owner operator at Freight X, you must be a company driver for at least 90 days first.
#10: If I've been driving for many years, do I still need to be a company driver for 90 days?
Yes. During the 90-day period, you have a chance to get familiar with us, the type of freight we haul, etc. We also get more comfortable with your reliability as a driver. We have a lot of risk when doing a lease purchase agreement, so we also appreciate the extra time to get to know you as a driver.
If you know from the beginning that you're interested in lease purchasing, we'll start you out in the truck you want to eventually lease. You have the opportunity to try it before you buy it, and we also repair anything that's wrong with the truck as you do your DVIRs (Daily Vehicle Inspection Report).
This helps you get comfortable with us before we go through all the paperwork of a lease.
#11: After 90 days do I just automatically go into the lease?
After the 90-day period as a company driver, you can choose to stay a company driver or you can choose to lease purchase the truck. As long as we've gauged you'll be successful in the lease purchase program (not everyone is a good fit!), then we'll put together a contract.
You'll pick a truck (if it's not the one you're already driving), we'll settle on the price, the payments, etc. We help you with everything – plates, insurance, fuel discount, and more.
#12: What are you doing for COVID-19?
Drivers can rest assured that Freight X has a robust continuity plan. We have prepared our office with remote work capability, so your dispatcher can continue serving you from home if need be. Our phone system is equipped to transfer to our cell phones seamlessly, and we have a secure way of connecting to our information with a VPN.
Our drivers are also prepared to face the challenges. We know finding meals can be the biggest challenge as many restaurants are closed, but nearly all Freight X trucks have fridges in them. We've also given all drivers a credit to purchase hand sanitizer, and we're ready to offer additional support to our drivers in any way we can.
We mean it when we say we are prepared for anything. We know drivers are our everyday heroes, and it's during a crisis that they get the much-needed attention they deserve. Thank you to all of our drivers – and the drivers across our great country – for being true front line heroes.
Learn more about driving for Freight X: