Whether you're an experienced driver or are new to trucking, there's a lot of lingo to learn! Just like any industry, we have shortened words, acronyms, and trucker slang that's just part of our everyday conversation.
If you have no clue what pups are (not the canine kind!), or you're lost when someone mentions IFTA or FMCSA, this is your ultimate list of trucking industry terms. We're sure to have forgotten some, so be sure to leave your suggestions in the comment section at the end!
#-A
11-Hour Driving Limit: part of the FMCSA Hours-of-Service Rules; property-carrying drivers may drive a maximum of 11 hours after 10 consecutive hours off duty. (Read the regulation here.)
14-Hour Limit: part of the FMCSA Hours-of-Service Rules; property-carrying drivers may not drive beyond the 14th consecutive hour after coming on duty, following 10 consecutive hours off duty. Off-duty time does not extend the 14-hour period. (Read the regulation here.)
60/70-Hour Limit: part of the FMCSA Hours-of-Service Rules; property-carrying drivers may not drive after 60/70 hours on duty in 7/8 consecutive days. A driver may restart a 7/8 consecutive day period after taking 34 or more consecutive hours off duty. (Read the regulation here.)
Agent: in the context of truck driving, an agent is an individual who oversees a small fleet of trucks and partners with a larger trucking company to lower operating costs – read more here.
American Transportation Research Institute (ATRI): a 501(c)(3) not-for-profit research organization whose primary mission is to conduct transportation research, with an emphasis on the trucking industry's essential role in a safe, efficient and viable transportation system.
APU (Auxiliary Power Unit): a unit that offers increased driver comfort, greater fuel savings, better driver recruitment/retention, idle reduction, lowered maintenance costs, and higher tractor residual values.
ATA (American Trucking Association): founded in 1933; the largest national trade association for the trucking industry.
B
Backhaul: a driver's return trip; typically pays a lower rate (unless you live in Florida!); backhauls typically are taken to position a driver for another, better-paying headhaul.
Balloon payment: a large one-time payment due at the end of a loan term; in trucking, this is quite common in unfair lease purchase agreements – read more here.
Berth: sleeping compartment behind the cab; also called a sleeper.
Bill of Lading: an itemized list of goods contained in a shipment.
Bobtail: A tractor operating without a trailer. Comes from the cat breed "American Bobtail" which is known for its short, stubby tail.
Bumped the dock: a driver backed up to a dock door ready to load or unload at pick up or delivery.
C
Cabover: also called COE, or Cab-Over-Engine; a truck design that houses the cab over the engine.
CB (Citizens Band Radio): A two-way radio system used to communicate traffic conditions, requests for help, or conversations.
CDL (Commercial Driver's License): The license that authorizes an individual to operate commercial motor vehicles and buses over 26,000 pounds.
CMV (Commercial Motor Vehicle): the FMCSR has defined CMV as a vehicle that is used as part of a business and is involved in interstate commerce and fits any of these descriptions:
Weighs 10,001 pounds or more
Has a gross vehicle weight rating or gross combination weight rating of 10,001 pounds or more
Is designed or used to transport 16 or more passengers (including the driver) not for compensation
Is designed or used to transport 9 or more passengers (including the driver) for compensation
Is transporting hazardous materials in a quantity requiring placards
Company driver: a driver who is an employee of a trucking company driving a company truck; typically paid by the mile or hourly.
D
DAC (Drive-A-Check) report: a comprehensive file that contains the last 10 years of your employment history, license verification, driving history, DOT physical results, criminal background checks, and any other information requested at a company; managed by HireRight. Carriers can also report a bad driver, which will show up on a DAC report and will likely influence future driving opportunities.
DAT (Dial-a-Truck): the largest truckload freight marketplace in North America.
Deadhead: when a driver is moving with an empty trailer; typically happens when a driver must drive a certain distance to pick up their next load.
Detention: compensation paid to the driver when a route is delayed either at pick up or delivery (typically longer than 2 hours at the time of pick up or delivery).
Dossier: a software company that provides fleet maintenance management solutions for the transportation industry. (We use Dossier here at Freight X.)
DOT (Department of Transportation): The Department of Transportation was established by an act of Congress on October 15, 1966. DOT's mission is to ensure our nation has the safest, most efficient and modern transportation system in the world.
Drop and Hook: when a driver delivers a load at the final delivery location for a customer and he/she drops the trailer and picks up a new one.
Dry van: shipping container used to haul pallets or boxes of cargo; the most common type of freight transportation today.
E
E-Log: An online system used to track hours of services and milage.
EDI (Electronic Data Interchange): the concept of businesses electronically communicating information that was traditionally communicated on paper, such as purchase orders and invoices; most customers in the trucking industry require EDI.
ELD (Electronic Logging Device): electronic hardware that is attached to a commercial motor vehicle engine to record driving hours.
F
Factoring: when a carrier receives payment from a third-party financial company after delivering a load and waiting for payment. The purpose of factoring is to improve cashflow.
Forced dispatch: when a dispatcher forces a driver to take a load that violates regulations or personal boundaries set at the time of hire; for example, telling a driver they must run a load that infringes on their hours of service or they will be fired; typically only applies to company drivers.
Flatbed: a type of trailer that is flat, which allows it to be loaded from all angles if needed; allows for larger freight to be loaded as there are no walls; typically unloaded by a crane or outdoor equipment; typically pays better than dry van freight as it requires more waiting – deliveries are often to job sites with tighter delivery windows and limited unloading equipment.
FMCSA (Federal Motor Carrier Safety Administration): part of the Department of Transportation whose primary mission is to prevent commercial motor vehicle-related fatalities and injuries.
FSC (Fuel surcharge): an extra fee that trucking companies charge to cover the fluctuating cost of fuel; the fuel surcharge is not meant to cover all fuel used on the load – it only covers a portion. A typical fuel surcharge may range between 20-35 cents per mile.
Fuel discount: trucking companies can partner with gas stations to receive a discount based on volume; discounts are often defined on a "cost plus" basis or a "retail minus" basis. For example, you may pay cost plus 4 or retail minus 4.
Fuel island: another term for a gas station, but in trucking, we don't get gas – we get diesel fuel, thus we call these filling stations "fuel islands" (or truck stops).
Fueling Location Optimization: the cheapest price at the pump doesn't actually mean it's going to be the cheapest due to individual state taxes, so dispatchers will optimize a driver's route to ensure they get the lowest-cost fuel, despite the price at the pump.
G, H, I
GVWR (Gross Vehicle Weight Rating): the maximum operating weight/mass of a vehicle as specified by the manufacturer.
Hazmat: Hazardous materials, as classified by the U.S. Environmental Protection Agency. Must have a Hazmat Certification as a driver to run these loads; the carrier must also be Hazmat Certified and have appropriate insurance in place.
Headhaul: the load you take leaving the terminal (such as your home or your home state).
HOS (Hours of Service): U.S. Department of Transportation safety regulations which govern the hours of service of commercial vehicle drivers engaged in interstate trucking operations. These rules are designed to eliminate the type of drowsiness that can lead to crashes. (Read the full regulation here.)
IFTA (International Fuel Tax Agreement): an agreement between the lower 48 states of the United States and the Canadian provinces to simplify the reporting of fuel use by motor carriers that operate in more than one jurisdiction. An operating carrier with IFTA receives an IFTA license and two decals for each qualifying vehicle it operates. The carrier files a quarterly fuel tax report. This report is used to determine the net tax or refund due and to redistribute taxes from collecting states to states that it is due.
L
Layover: similar to detention, layover is paid by the trucking company to the driver when they spend a certain amount of time not driving.
Lease Purchase Driver: A driver who is in a lease agreement with a trucking company to eventually own their truck and become an owner operator; many trucking companies have given lease purchase agreements a bad name due to unfair contracts and bad business practices – read more here.
Load board: also known as freight boards; an online system that allows shippers and brokers to post loads.
Logbook: A records book where drivers record their hours of service and duty status for each 24-hour period.
Long-haul: driving long distances.
LTL (Less-Than-Truckload): A load that is typically less than 10,000 pounds; the quantity of freight is less than what is required to fill a full truckload.
M
Maintenance account: An account that holds a small percentage of your earnings over time to cover potential truck repair costs; typically required during lease purchase contracts, and the average amount held back is between 12-20 cents per loaded mile.
McLeod: a trucking software provider that provides solutions for trucking dispatch operations management, freight brokerage management, fleet management, document imaging, workflow, and EDI. (We use McLeod here at Freight X.)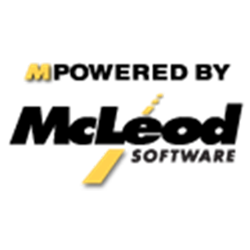 MT: driver slang for "empty."
O-P
Owner Operator: A driver who owns his/her own truck and runs as a 1099 contractor for a trucking company.
OTR (Over the Road) Driver: A driver who travels cross-country to deliver freight; typically sleeps in his/her sleeper and averages upwards of 100,000 miles annually.
Personal Conveyance: the movement of a commercial motor vehicle for personal use while off-duty.
Power only: pulling someone else's trailer when running a load; the driver is supplying the "power only."
Pups: containers that are just 26–29 feet long, instead of the standard 53 feet.
R
Regen: when soot builds up inside the DPF (Diesel Particulate Filter), a driver may be forced to pull over and do a 'forced regen,' or a self-cleaning process that can take about 45 minutes. Without a regen, the tractor may not be operable.
Reefer: a refrigerated trailer, commonly used for the transportation of food; these loads typically pay more because they require more attention from the driver and you have to put fuel in the tractor and the trailer.
Relay: two drivers with loaded trucks who meet in a central destination to swap trailers and return to their points of origin.
Rolling regen: the same as a regular regen, but you do not have to stop to perform the regen. It's important to never interrupt a rolling regen, or you risk future issues.
S
Sleeper: the sleeping compartment mounted behind the truck cab; where drivers sleep while on the road.; also called Berth.
Sleeper Berth Provision: part of the FMCSA Hours-of-Service Rules; drivers using the sleeper berth provision must take at least 8 consecutive hours in the sleeper berth, plus a separate 2 consecutive hours either in the sleeper berth, off duty, or any combination of the two. (Read the regulation here.)
Spot market rates: shipping prices that exist right now; typically paid by the broker.
Spread axel: tandem axels existing on flatbed trailers that can slide independent of each other – one is fixed, and the other, you can generally spread out.
Step-deck: a trailer that has two deck levels – an upper deck and a lower deck which drops down after it clears the tractor tandems.
Stop pay: loads with several delivery locations in which compensation is given for each stop made; generally, a load consists of one "pick," or origin, and one "drop," or destination. Intermediate stops are typically compensated by the company.
Super single: tires that are twice as wide as typical tires; each "super single" replaces two typical tires; can be used on tractors or trailers; these offer better fuel economy, but if one fails, you're stuck and cannot continue driving under any circumstances.
T
Tandems: the two axels beneath the trailer that must be set a certain distance from the kingpin (distance varies by state and sometimes requires special permitting).
Team: two drivers working together allowing freight to move faster as one drives while the other sleeps; teams earn a higher rate per mile.
TMS (Transportation Management System): an online platform designed to streamline the shipping process; an example of a TMS is McLeod or TMW.
Tractor Trailer: a tractor and semitrailer combined.
Transflo: a mobile, telematics, ELD, and business process automation company with technology for commercial drivers, fleets, and brokers. (We use Transflo here at Freight X.)
TONU (Truck Ordered Not Used): if you're dispatched on a load and the shipper says there is no load ready for pickup upon arrival, the broker or customer must pay you for the TONU; typically only applies to owner operators as company drivers are paid by the mile.
Truckstop: alongside DAT, one of the most widely used load boards in America.
U
USDOT Number: serves as a unique identifier when collecting and monitoring a company's safety information acquired during audits, compliance reviews, crash investigations, and inspections.
What Trucking Lingo Did We Miss?
There you have it! This is our compiled list of trucking terminology that we've seen and used over the years. We're sure we're missing some, so be sure to leave your ideas and suggestions in the comment section below. Thanks for reading!